How to Cancel Resume Now Subscription
Resume Now is an online resume builder service. It offers a customized CV builder based on user skills and educational background. This online tool makes it easy to build a professional-looking resume.
You can cancel subscriptions via a variety of channels Resume Now channels such as email, phone & online.
In this post, we are going to understand Resume Now Cancel Subscription.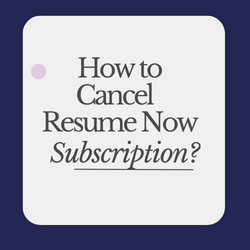 Please be aware that the cancellation of the Resume Now subscription doesn't mean unpublishing your Profile from the resume public resume database. In case you want to delete your Profile may be removed by deleting your Account.
A refund will be issued once canceled in case your account is qualified for a refund at the time of cancellation. Please check with the support center (details given below) in case of any queries.
Please see below information about multiple contact Channels and steps to cancel your Resume Now membership.
Does canceling the Resume Now Subscription result in the profile deletion?
NO. When you cancel a subscription, Only paid subscriptions will be removed. It won't take down your profile linked with Resume Now.
So, if your question is about how to delete your Resume Now account, You need to delete your account. You can unpublish your Profile from the Account Settings Menu.
How to Cancel Resume Now Subscription Online?
You can request subscription cancellation online by following the below steps
Login to Resume Now portal
Click on your username (top right corner)
Go to Settings.
Go to the subscription section
Request for Cancellation
You may receive a cancellation email with cancellation numbers Once requested for cancellation. Call the support center in case of any queries or require more details.
How to cancel Resume Now membership on Call?
Based on your country you may call the Resume Now customer support representative via phone at the contact number below from the specified hour.
Last updated on Oct 6, 2023
Country
Contact number
Timing
UNITED STATES
844-351-7484
Mon – Fri
8:00 AM – 8:00 PM CST
Sat
8:00 AM – 5:00 PM CST
Sun
10:00 AM – 6:00 PM CST
AUSTRALIA
1800-758-381
Mon – Fri
8:00 AM – 8:00 PM AEST
Sat
8:00 AM – 5:00 PM AEST
Sun
10:00 AM – 6:00 PM AEST
CANADA
844-351-7484
Mon – Fri
8:00 AM – 8:00 PM CST
Sat
8:00 AM – 5:00 PM CST
Sun
10:00 AM – 6:00 PM CST
NEW ZEALAND
0800-005-198
Mon – Fri
8:00 AM – 8:00 PM NZST
Sat
8:00 AM – 5:00 PM NZST
Sun
10:00 AM – 6:00 PM NZST
UNITED KINGDOM
0808-189-0354
Mon – Fri
9:00 AM – 9:00 PM GMT
Sat
9:00 AM – 9:00 PM GMT
Sun
9:00 AM – 9:00 PM GMT
Request the agent to stop the Resume Now subscription. They might ask a few questions to double-check your account to confirm your details.
How to cancel a Resume Now membership By Email?
You can navigate to the Resume Now Contact Us page where you can find the request form. You are required to provide the below information and follow the steps
Name
Your email address
Email subject ( here you may choose customer service)
Email body. (please make sure to enter the required information so that the customer agent can find your account and do the needful.)
Click Submit
How to cancel the Resume Now membership using Live Chat?
You can try live chat on the Contact Us page to communicate with agents. Here you can start with automated Q&A.
The agent will also advise you to cancel through email phone or online as specified in the previous section of the current post. Most of the time Live Chat is quick to answer your queries and receive correct guidelines.