Unlock Your Audio Experience Now! Learn How to Pair ONN Headphones & Earbuds
The most recent ONN headphones models are compatible with multiple devices, including PCs, Laptops, Tablets, and smartphones. However, connecting to your preferred device can be challenging if you're new to ONN headphones. Fortunately, this article about how to pair ONN headphones with your device will guide you step-by-step through the process from beginning to end to the quickest way to connect your headphones to any device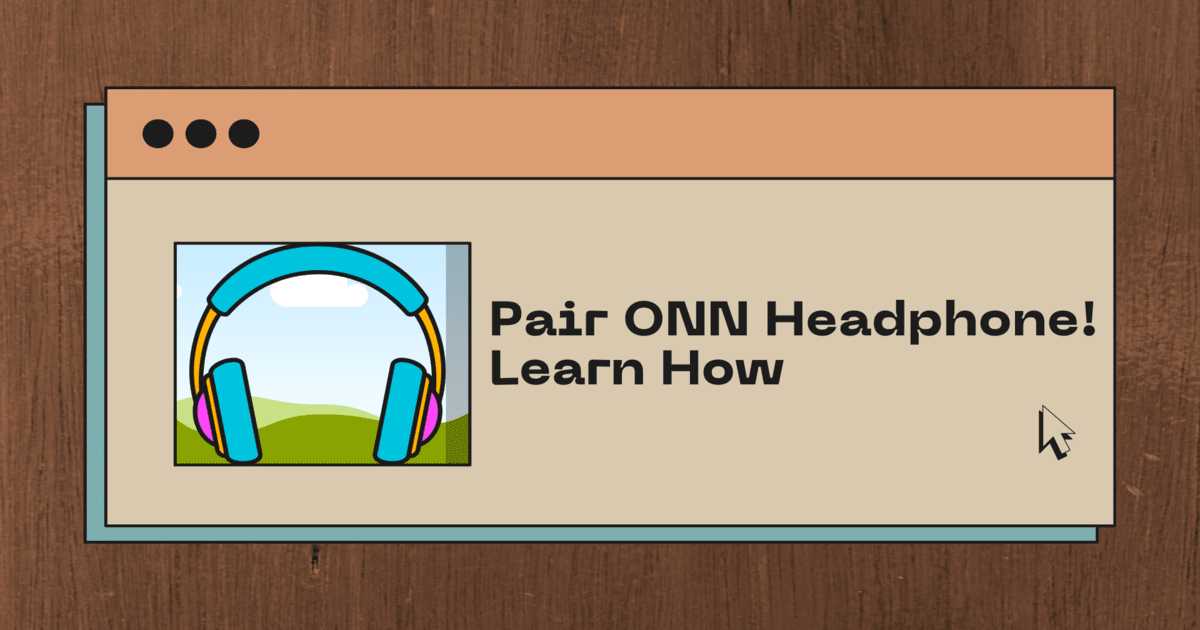 Learn How to Pair ONN Wireless Headphones on Android
As long as Bluetooth is enabled on your Android smartphone, connecting Onn headphones with an Android device is a simple process. To activate pairing mode, press and hold the power button on your headphones for roughly five seconds until the LED begins to blink.
The Onn headphones or earbuds should show up in your Android phone's list of devices once they are in pairing mode. The two devices ought to be associated after you tap on them. You might occasionally need to check the connection on both the phone and the headphones.
Onn's true wireless earbuds can be paired with an Android handset as well. Remove them from the charging case, then press and hold the right earbud's button for around five seconds to put it in headphones to pairing mode. The two ought to be linked once you switch on the left earbud.
How to Turn On Pairing Mode on Onn Headphones, Earbuds, and Speakers
To do this, locate the power button on your device and press it once to turn it on. Then press and hold it for a few seconds (upto 5 seconds but sometimes it depends on model) until you hear a beep or see a blue light blinking. This indicates that the pairing mode has been successfully activated.
Once the pairing mode is activated, your device will become discoverable by other Bluetooth devices in your vicinity. On your phone or other device, go to the Bluetooth settings menu and search for available devices. When your ONN device appears in the list of available devices, select it and follow the prompts to pair it with your phone or other device.
How to Pair ONN Headphones on an iPhone?
Connecting your headphones to your iPhone is a hassle-free, streamlined process. To get started, open your phone settings, and then open the Bluetooth tab. In this section, you'll find an 'Other Devices' option which will display a list of potential pairings in the form of nearby Bluetooth devices. Locate your Onn headphones in the list, and simply tap to connect them to your iPhone. Once successfully paired, you should be able to enjoy great sound quality from your Onn headphones.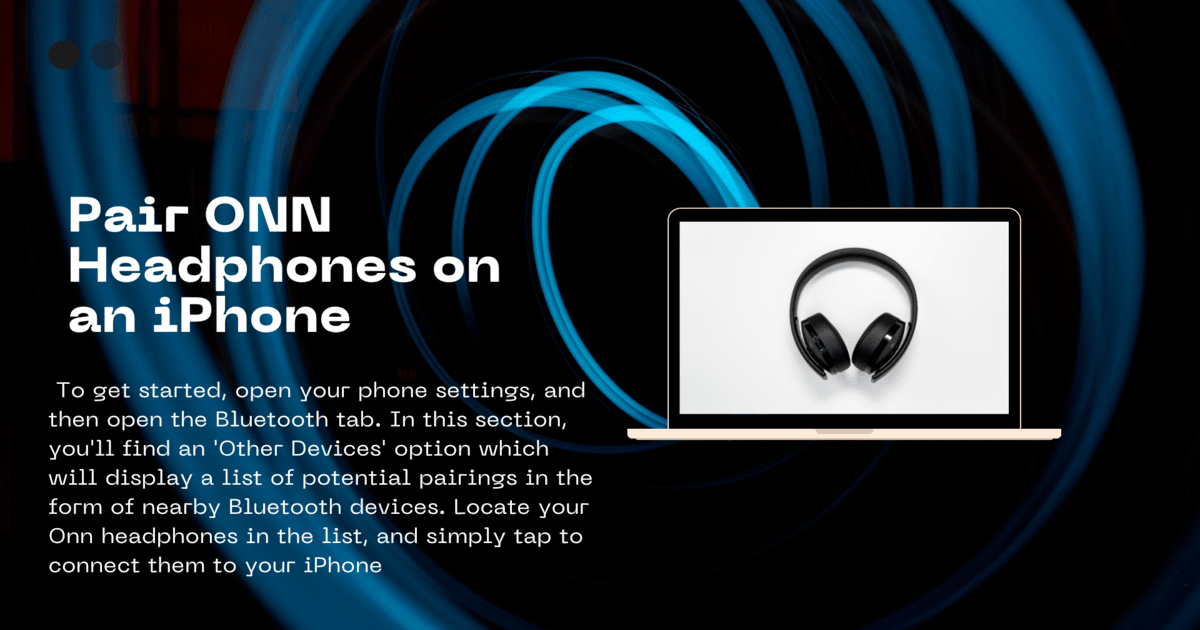 If you are having trouble connecting to your Onn headphones and earbuds, you may want to try troubleshooting the connection. First, make sure that your headphones are in pairing mode by pressing the power/pairing button and holding it firmly until you see the LED light begin to blink. This will usually take 5-10 seconds depending on the model. It is also important to make sure that your headphones and iPhone are within a few feet of each other for the Bluetooth connection to work properly. If all else fails, you may need to reset your Onn headphones and try the pairing process again.
Can You Connect Bluetooth Headphones to a Roku TV?
Easily connect your Bluetooth headphones to your Roku TV with the Roku mobile app's private listening feature - no additional device is needed! Simply use your mobile phone to stream channel audio directly to your headphones for a seamless, wireless connection.
To get started with pairing, head to the settings and select 'Remotes & Devices'. Then, select 'Pair New Device'. You'll be prompted with a Bluetooth pairing screen; grab your phone, tablet, or laptop and complete the pairing process!
If your TV has built-in Bluetooth, you'll be able to find it in the settings menu. Once found, you will have to put your headphones into Bluetooth pairing mode. You can also connect your wired headphones directly to the headphone jack of the Roku TV. This will allow you to access audio without the need to pair a device.
When attempting to pair, try moving your Bluetooth device closer to the Roku TV and wait longer if the device does not appear in the list of discovered devices. Additionally, restart the scan on your smartphone, tablet, or computer if necessary. It is important to note that while you can connect Bluetooth headphones to your compatible smartphone, you cannot connect any Bluetooth devices directly to your Roku TV on its own.
How to pair Onn devices to a Mac?
Pairing your ONN device with a Mac is a breeze! Just make sure to have Bluetooth enabled on your Mac and press the power button on your Onn device for a few seconds until you see a blinking LED light you'll be connected in no time!
If you have an Onn Bluetooth speaker, make it ready to pair by pressing the Bluetooth button. To pair your true wireless earbuds, take them out of their charging case and press and hold the button on the right earbud for five seconds until it's in pairing mode.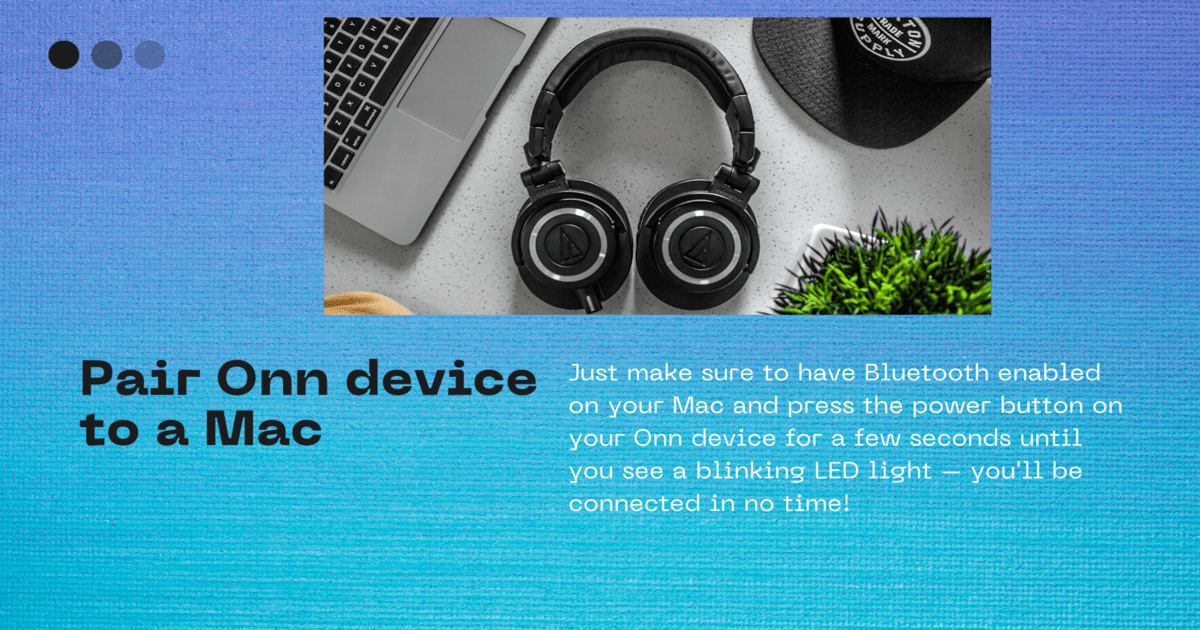 Next, open Apple Menu > System Preferences > Bluetooth and wait for your Onn device to appear in the list. Click on the device's name and accept the connection if asked.
If you have already paired your Onn device with a device before, the next time you turn them on near that device, they should sync automatically as long as that device has Bluetooth enabled.
It is important to note that after upgrading macOS or replacing the battery in your devices, problems may arise. In this case, the best way to fix them is to disconnect your devices from your Mac and then pair them again.
How to connect Onn headphone to a Windows PC?
Most of the time, we must perform the same procedure as described in the previous steps by pressing and holding the power button on the headphones for up to 5 seconds. Depending on the model, the LED light will begin to flash between red and blue or only blue. In order to locate your Onn headphones, make sure to check your Windows PC's Bluetooth settings!
Connecting Onn devices to your Windows PC is a breeze! To get started
Open Start > Settings > Devices
Select Bluetooth & other devices
Select Bluetooth
Find Onn device appear in the list of available devices to connect in range
Click and Connect Onn headphone from the list to connect with Window PC
Once you've opened the Bluetooth window, simply click on "Add Bluetooth or other device" and select your Onn device from the list. Once it's selected, hit the 'Connect' button and, if asked, press 'Accept' to finalize the process.
How to Troubleshoot Bluetooth Connectivity Issues?
Troubleshooting Onn headphones Bluetooth connectivity issues can be a tricky process, but it is possible to get them working properly again. To get your headphones back on track, start by following the steps
Power off Onn headphones Press and hold power button for 10 seconds
Check for red and blue LED lights flickering
Place Onn headphones into pairing mode
Reset Bluetooth settings on device
Repair Onn headphones with device
If your headphones are still not pairing, there may be interference with the Bluetooth signal. To fix this, try following the steps
Check if there is interference with the Bluetooth signal
Turn off device and then turn it back on
Try connecting your headphones to another device
Check if the headphones work better on the other device
If your headphones are connected but somehow still not working, Please make sure the battery is charged enough and follow the below steps
Charge the headphone if not charged enough.
Make sure the source device volume is not low.
Check for accidental connection to someone else's earbuds/headphones.
Clear any old Bluetooth devices from your phone's memory.
Finally, if all else fails, you can try resetting your Onn headphones by turning them off and holding down the power button for 8-10 seconds. This should put them back into pairing mode and allow you to reconnect them to your device.
How to Reset Onn Bluetooth Headphones?
For those who own a pair of Onn Bluetooth headphones, it's important to know how to reset them in case they stop working. The exact method for resetting varies according to brand, To power off, locate the power button and hold it down for 10 seconds. Subsequently, wait for the red and blue LED lights to start blinking. When they do, your headphones will be ready to pair with another device.
With regards to Onn Bluetooth headphones specifically, the process is similar. First, turn the headphones off and then hold the power button for 10 seconds. Wait for the red and blue LED lights to flash and then reconnect with your device. If the reset doesn't work, you can try to make sure your device's Bluetooth is turned on, unpair any other devices connected to the headset, and restart your smartphone or laptop.
Please be aware that resetting headphones does not guarantee that problems caused by water damage or by normal wear and tear on the electronics will be resolved. Any number of resets won't work if that's the case.