How to Clear Cache on Samsung TV
Before getting into the specifics, let's first discuss why we should erase the cache and what advantages might result from doing so.
Your device's storage is taken up by caching, thus deleting the cache will make space available which could be used for other things.
Because no one who uses the same device can see your behavior, this can help preserve your privacy.
One of the security recommendations is to clear the cache because it guards against viruses on your computer.
Boost the device's speed.
Corrects a few loading problems
The performance of the active apps is reactivated by clearing the cache.
Therefore, it is advantageous and advised to regularly delete caches. Let's examine how to clear the cache on a Samsung TV in following steps.
1. How to remove cache on a Samsung smart TV to get the best performance?
On a Samsung smart TV, clear the cache for the best application performance.
Cache memory is used by every installed application on a television. As a result, it will be necessary to clear each relevant cache (or choose an application that uses more cache memory). On the newest Samsung smart TV model, deleting the application cache is very similar to deleting the cache on smartphones.
To remove the cache on the most recent Samsung TV models (2020, 2021, and 2022), navigate to the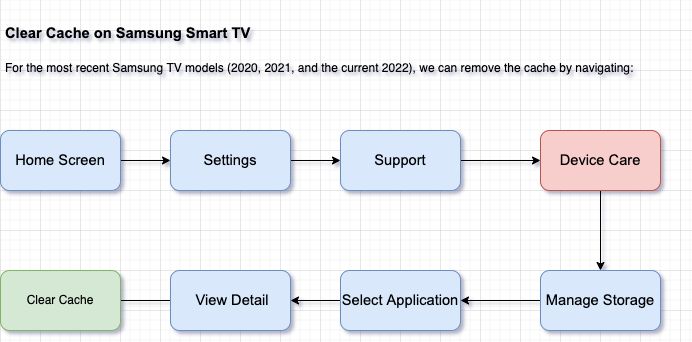 Device care is really care offered in modern Samsung devices that uses diagnostic software to execute a scan in order to optimize and diagnose TV abnormalities, such as screen blurriness problems or a lack of storage capacity.
2. On a Samsung TV manufactured prior to 2020, how can I clear the cache?
The steps listed below can be used to delete the cache for a different model.
Home Screen >> Settings >> Support >> Self Diagnosis >> TV Device Manager ⇒ Manage Storage ⇒ Select application to clear cache ==> Clear cache
The same procedure would be done for choosing other applications and removing the cache from managing storage.
Note. Although the most common methods to clear the cache have been described here, it is still possible that you won't be able to clear the cache for a particular application or model. Please look up the Samsung support website in your nation. They have a fantastic support section with a list of troubleshooting articles where you search your question and are supposed to get your answers. Good Luck!