Does Doordash Take Cash App?
Doordash is a food tech company that connects consumers to local restaurants. It supports various payment methods including cash app cards.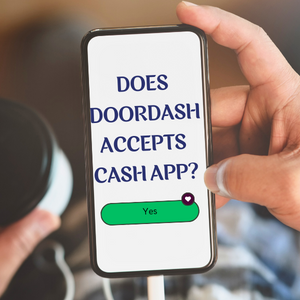 Therefore if your question does doordash take cash app? then Yes. Doordash, A Food delivery service accepts cash app card.
In this post, we are going to learn how can you use cash app on Doordash. Also, we will get answers for the Doordash cash app FAQ that asked mostly so keep reading.
How To Add/Link Cash App Card To DoorDash?
Please follow the methods below to Link your Cash card to the Doordash.
Launch the Doordash App and sign in to your account
Head and click on the Account In the bottom right corner
After you click on the account Account sections will appear with several options
Next, Tap on the Payment method
Next, Under the payment methods section, you will find all the available payment method options
Now click on the Credit/Debit Card Menu
Next, enter manually your cash app card details including card no, expiry date, and CVV number.
Click on Add Card once entered the information.
This is how you can add your Cash app card details. Enjoy your food by paying through the Cash app payment method once delivered
How to Link Dasher Direct Card to Cash App?
Open the Cash application on your smartphone.
From the home screen Tap on the profile symbol in the top right corner.
You'll arrive at the My Account page.
Scroll down and tap on the Linked Banks menu link.
Next, on the Linked Bank screen you need to tap on Link Debit Card.
Next, You need to enter your Dasher Direct Card details including Dasher Direct Card number, Expiry date, CVV number, and Zip code (postal code). you can add Dasher as a bank by using a Dasher card in such a way.
Next, tap on the Link Card option at the bottom after you have finished inputting your Dasher Direct Card details
Your card is linked now.
How to Transfer Money From Dasher Direct Card to Cash App?
Now Dasher Direct card is linked with the Cash app as mentioned previously. Now Let's understand how we can transfer the amount From Dasher Direct Card to Cash App in the following simple steps
Launch the Cash app (If Not already open)
From the home screen. Tap on the bank symbol in the bottom left corner.
You will be directed to the Money screen where you can see your cash balance, Cash add, cash out, and other options.
Next, simply click on the Add Cash button
Next, it will open a pop-up with a list of cash amounts.
Select the amount you wish to transfer from the given pre-defined amount or enter your desired amount manually by clicking on three dots (...).
Next, Click On the Add Cash button at the bottom of the pop-up window
Next, you might need to enter your PIN to confirm.
It will add the entered amount to your app using the above method.
Can you use Cash App on Doordash?
Yes, you can. Cash App will be one of the payment methods available on your Doordash checkout payment page if you linked Cash App with the Doordash application already.
Here are the steps you can follow to use the cash app on Doordash
Launch Doordash application
Search for specific eatery or item you're looking for
Choose your food item and add instructions if applicable.
Simply add your chosen food to the cart
Check your card by clicking the view cart.
Apply promo code if any you have to get discount On total cost.
Now click continue and you will reach on checkout page
Double-check all the information before placing an order Such as delivery address, ETA, and other information.
Next on the checkout page click on the payment option.
Next. On the Payment page, you can find multiple payment methods such as Credit/debit cards and other saved payment methods.
You will able to see the Cash App as a payment method here if you already linked your Cash app with Doordash.
Select Cash App as a payment option
Next on the checkout page hit Place Order to complete an order for food.