How to use Chime Temporary Card?
Chime Is one of the popular mobile banking apps that is available for Android and iPhone devices. It's a fintech company that offers services similar to traditional banking with additional benefits. It offers features such as secure transfer of your money from and to other bank accounts, paying bills, tracking on-time payment transactions, and more.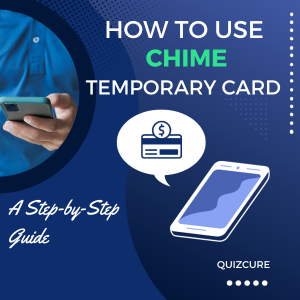 A Chime virtual card is a digital card. Let's quickly review how to access a Chime temporary card before going on about
how to use Chime temporary card
without an original card.
Launch the Chime app
Tap on setting
Navigate to your personal information
Go to Debit Card Settingg
Tap on the view my card option.
Next, you can find the virtual temporary card number expiration date and CVV details
Please be aware that once you receive your physical Chime card and activate the physical card, you won't be able to use a temporary card. you can use a temporary card until you receive the original Chime Debit Card.
Let's jump into details about how to use a chime temporary card in the following different ways
How to use Chime temporary card for online purchases?
Once your temporary Chime card is prepared you will able to purchase or make transactions online through this card by inputting your card number, CVV details, and expiry date as a normal pay-by-card process.
However, On the safer side, you can connect your Chime card with Apple Pay, Google Pay, or another secure payment app supported for online purchases. The below sections are covered with specific use cases. So please continue reading.
How to use Chime temporary card using Google Pay?
Google App is compatible with the Chime cards. In order to make secure transactions, you can use Google Pay for online purchases by linking Chime's temporary card to Google Pay rather than entering card details.
Follow the below steps to link the chime to Google Pay
Launch the Google Pay app
Tap on your Profile picture
Go to the bottom and tap Add to Wallet.
Tap Payment Card Option
Tap New credit or debit card.
Save Card details by capturing a card picture or entering card details manually
Verify payment method if asked.
There could be authorization checks from Google to make sure the card and account are valid.
How to use Chime temporary card using Apple Wallet?
Go to your device settings
Scroll down and choose Wallet and Apple pay
Underpayment cards section tap on add card
Next, Add to the Wallet screen and tap on Debit or Credit Card
Click on the Continue button
Now in the next screen Simply enter card details manually and here you need to provide the card information.
Hit next and continue.
In this way, you can add your chime card to Apple Wallet.
How to use Chime temporary card using Samsung Pay?
Chime card is compatible with Samsung Pay. The steps to connect the Chime temporary card to Samsung Pay are listed below.
Launch Samsung Pay
Tap to the three horizontal lines (Menu section) on top left
Next, tap on Cards
Next, Tap Add card
Next, tap Add credit/debit card.
Follow the instructions and add chime card information.
How to use Chime temporary card in-store without a physical card?
You can use digital wallets for in-store purchases. In the previous sections, we have described how to link with Google Pay, Apple Pay, or Samsung Pay and use it. Please follow the instructions mentioned previously and enjoy in-store hassle-free payments.